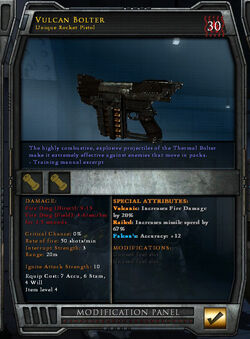 Vulcan Bolter (4)
DAMAGE:

Fire Dmg (Direct): 9-13
Fire Dmg (Field): 4.6/sec/3m for 2.5 seconds
Critical Chance: 0%
Rate of fire: 50 shots/min
Interrupt Strength: 3
Range: 20m
Ignite Attack Strength: 10

EQUIP COST:

7 Accu, 6 Stam, 4 Will
Item level 4
Faction: Hunter

SPECIAL ATTRIBUTES:

Volcanic: Increases Fire Damage by 21~25%

Railed

: Increases missile speed by 65~67%

Fal

con's

: Accuracy +11~15

MODIFICATIONS:

Quote: The highly combustive, explosive projectiles of the Thermal Bolter make it extremely effective against enemies that move in packs. - Training manual excerpt
Ad blocker interference detected!
Wikia is a free-to-use site that makes money from advertising. We have a modified experience for viewers using ad blockers

Wikia is not accessible if you've made further modifications. Remove the custom ad blocker rule(s) and the page will load as expected.